To celebrate Pride, we've collected experiences and insights from just a few of our researchers and scholars studying areas of interest in LGBTQ+ art, communities, and health. Below, learn more about Dr. Lydia Fein, MD, MPH, an obstetrician gynecologist, Director of the Transgender Program in the Department of Obstetrics, Gynecology, and Reproductive Sciences, and Director of the Gender, Sexual Health and Orientation Pathway at the Miller School of Medicine.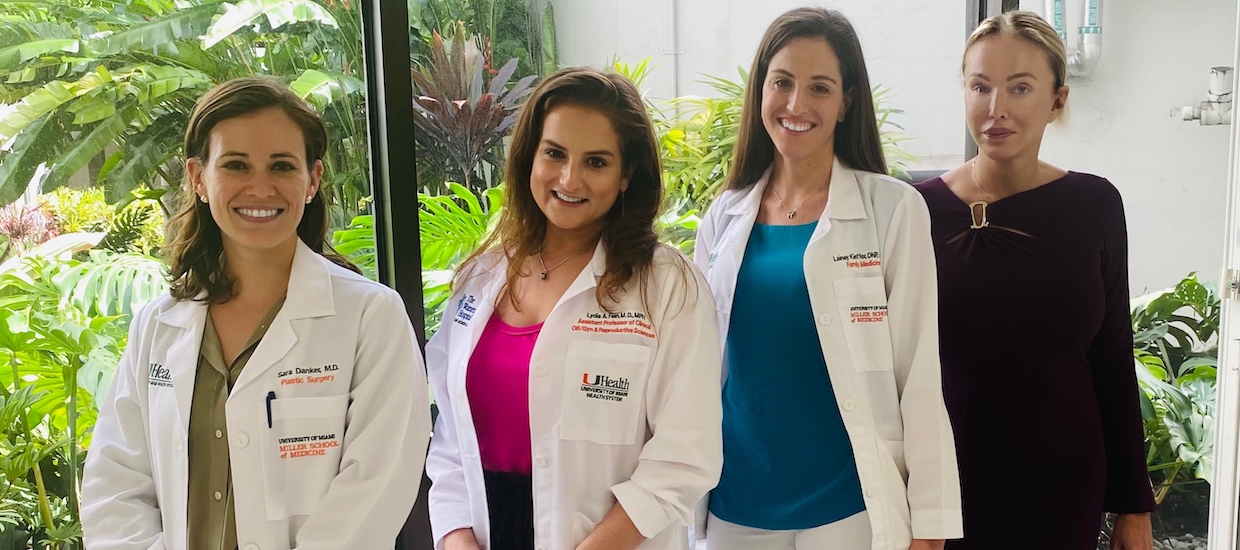 What are your research and scholarship interests?
Miami offers the ability to have several robust research programs in the transgender population. My ongoing projects include a Center for AIDS Research (CFAR) pilot grant award to study the HIV risk of transgender women who have undergone gender-affirming vaginoplasty, a transgender registry study through CFAR, and a study of post-operative pain in transgender men undergoing hysterectomy. I am also leading a survey of medical students to assess their knowledge and attitudes toward LGBTQ health topics, including undergraduate medical education as well as their comfort with caring for LGBTQ patients. The goal of this study is to improve medical student training in LGBTQ health.
We have a multidisciplinary team of clinicians, surgeons, researchers, and administrators working to improve the quality of care for transgender patients. We have numerous providers across multiple disciplines that provide gender-inclusive care. Our team also meets monthly to enhancing our patient navigation process for our transgender patients and optimize our electronic record and patient interfaces to be more gender inclusive. We also provide in-service trainings to promote LGBTQ inclusivity throughout our health system.
We have partnered with the medical school to provide an undergraduate medical curriculum in LGBT health topics, and we have worked with LGBT community partners and organizations as well as with our Department of Community Service (DOCS) to provide gender-affirming care to underserved communities in Miami.
What opportunities exist in training for physicians with regard to the LGBTQ+ population? 
In our chapter in The Equal Curriculum, a first of its kind resource for medical students on caring for LGBTQ+ patients, my colleagues and I discuss the many facets of gender-affirming care. We also contributed numerous chapters to the book, Gender Affirmation, Medical and Surgical Perpsectives, a textbook for physicians edited and authored by internationally renowned gender surgeons.
Undergraduate medical education is rapidly expanding to include more topics in LGBTQ Health.  Formal training for physicians in gender-affirming care has been expanding around the country, with numerous fellowships now available.
What should we know about supporting LGBTQ+ research and researchers?
The most important thing we can do is provide grant opportunities and support/resources for LGBTQ research and scholarship. The trans population is vastly understudied and any contribution to research is meaningful. Research must consider the transgender population separately from the lesbian, gay, and bisexual population because they have different risk factors and vulnerabilities.